There are quite a number of amazing female comic book characters. According to the fans and voters, some of them stand out more than others. Here are the top 10 kick-ass female comic book characters of all time, according to their rankings;
#10: Zatanna from DC Comics
Zatanna, the female character, and a stage magician is the daughter of famous stage illusionist- Giovanni Zatara, this makes it easier to detect where Zatanna magical prowess comes from. Zatanna remains one of the greatest stage performing magicians and many even call her a sorceress. After some years of intense training from her father, she has mastered the act of casting spells by muttering some verbal commands, and she has successfully joined the Justice League Dark, after the launch of the "New 52″ reboot. She may not be your usual heroine but she has mastered the act of protecting the magical world from evil.
#9: X-23, from the Marvel Comics
X-23, who originally goes by the name "Laura Kinney", is the perfect female version of "Wolverine". She was originally a comic creators experiment but soon became one of the greatest female comic characters of all time. She is the greatest female killing machine, and often referred to as "Perfect weapon". While she was being created, she was subjected to numerous tortures in order to activate her mutant capabilities, and now she has become one of the most active members of the X-men, X-Force, and the Avengers.
#8: Black Canary from DC Comics
Many female acts have performed the character "Black Canary" at different times, however, Dinah Lance, the daughter of Dinah Drake has been trained perfectly by the wild cat and has become twice as powerful as her mother- Dinah Drake. Though she is more powerful than her mother, they still make a great team when they fight together. Black Canary has always been there for the "Green Arrow"- a great male character in DC comics.
#7: Jean Grey from the Marvel Comics
Jean Grey is one of the founding members of the X-men, as well as the Cyclop's soulmate. This character has endeared herself to the hearts of her fans through its Telekinetic powers .she is always at the forefront of the fights, and during her act of sacrificing, she was killed from a radiation accident but re-emerged to become the powerful "Phoenix". Jean Grey now has some Cosmic powers and has started calling herself the "Dark Phoenix" after her encounter with the dark forces. Jean has made it to this list because of her clever nature.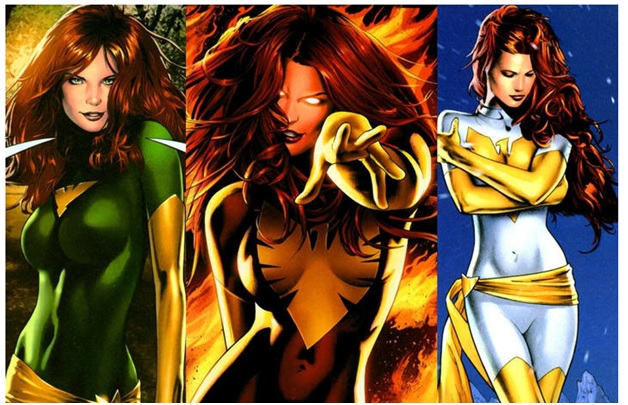 #6: Harley Quinn from DC Comics
Most women love Harley , she is the psychiatrist at Arkham Asylum, and after offering a wide range of therapy sessions , she had fallen in love with the Joker who happens to be her patient. She did not only fall in love with the Joker, she also follow him into the world of crime. Harley has many characters, she can be friendly, silly, sensitive or kind, depending on her mood. She has also transformed into a strong, independent and psychotic woman.
#5: She-Hulk, from the Marvel Comics
Jennifer Walters plays the She-Hulk character, though she had received a blood transfusion from her cousin, after an accident, and this operation saved her life, even though it changed her skin color. Unlike the incredible Green Hulk man, She-Hulk has retained her own personalities, and everything she might be lacking through physical powers has been gained through intelligence. She is both a successful fighter and fighter and has remained one of the mightiest female heroes.
#4: Cat woman, from DC Comics
Cat woman is definitely the most famous heroine in female comic book history and is one of the best characters in the series-Batman. Selina Kyle was the first cat woman, she happened to be an orphaned raised in the streets, and after several years of training, she became one of the most skillful burglars in town, and one of Gotham city police department (GCPD), most wanted. She often donates the money made from burglary to Gotham city's poorest people. Since the arrival of Batman in Gotham city, she had become more of a hero than a villain.
#3: The Black Widow, from Marvel Comics
Claire Voyant had acted the first Black Widow – this is an anti-heroic character known for using magic that allows her to banish souls into hell. The new Black Widow has become an agent of "SHIELD" as well as an Avenger. The combat and leadership skills exhibited by the new Black Widow have endeared her unto the hearts of her fans. Natasha Romanova, the new Marvel Comics Black Widow is definitely a Spymaster.
#2: Ms. Marvel, from Marvel Comics
Four different characters have played Ms. Marvel but the greatest is Carol Danvers. Ms. Marvel had obtained her super powers after an accident had changed her DNA and made her become an human-kree hybrid. She had faced a whole range of problems, including alcoholism and a personality disorder, however, she had managed to overcome these problems to become one of the protectors of the planet Earth. She has also regained her powers to become one of the avengers, where she changed her name to Captain Marvel.
#1: Wonder Woman, from DC Comics
Considering the number of votes from fans, and female comic book readers, Wonder woman seem to have most of the votes. Wonder woman, played by Dianna Prince, is the princess of Themyscira- a land that is predominantly inhabited by warriors, and she remains the wisest and most powerful of them all. She has a great stamina and also possesses some magical powers, including; the bracelet of victory, and the "royal tiara". Wonder woman had eventually left her native land in order to end the war against humanity. Wonder woman has gained the hearts of many because of the way she fought and defeated monsters and even gods. She has successfully spread peace all over the world and has helped weak people to become stronger.
There you have it. My top 10 most kick ass female comic book characters of all time. What do you think? Is there a character that you think should have been added to this list? Post a comment below to tell us who and why!