As all collectors know, there are many rare comic books out there. The Amazing Spider-Man, Batman, and even Teenage Mutant Ninja Turtles have all thrown up some rarities in the comic world. Likewise, there are a couple of rare Spawn comic books that collectors drool over. The first issue of the Spawn comic (Spawn #1) had a manufacturing error and, as you might expect, this boosted its value. The minimum value for Spawn #1 is around $150, but some copies have sold for nearly $300. The most valuable Spawn comic for sale on ebay is nearly $10,000.
Needless to say, if you've got a Spawn #1 in top condition with the manufacturing error, you've got an extraordinarily valuable comic.
Because of the nature of the Spawn #1 error, there are several variants that will determine the value of your comic.
What was the Spawn #1 Error?
The Spawn #1 error was printed with no black ink.
There are also copies with some black ink but it is light or appears faded. There's a range—some copies have black ink and an error isn't noticeable. Others are light or grayish in color. Finally, there are some copies without any black ink at all. Some copies have nothing but blank white space in the areas where there was supposed to be black on white printing. It is these copies with no black ink that command the highest resale price.
If you have a copy of Spawn #1 or you're interested in buying a copy with the manufacturing error, you'll want to familiarize yourself with these grading criteria. This will make it easier to determine the value of your comic and/or whether you're making a good investment:
Very weak black ink strike on the cover
Uneven black ink on cover
Other Rare Spawn Comics
Spawn #1, with or without any degree of manufacturing error, isn't the only rare Spawn comic. There are actually several in the series that are valuable collector's items. Which ones should stand out or should you consider adding to your collection?
The newsstand edition of this comic is the one that has the most value. This is due in part to the changing face of comic books sales.
By the time this comic was issued, most people who bought comic books were buying them from comic books stores instead of newsstands. The newsstand versions were printed on cheap newsprint paper and they usually didn't include centerfold posters. They were cheaper, but they still weren't selling as well. Spawn was featured on the cover of the final Savage Dragon comic #30 that was issued for newsstands and the newsstand version of the cover had a few differences from the direct edition versions sold in stores. For instance, the newsstand version featured:
Both Spawn and Savage Dragon
An "as seen on TV" alert
#1 as opposed to #30
Advertisement for a bonus DART pin-up
Different price
UPC code in bottom left corner
Batman and Spawn came together in a comic in 1994. Again, there were direct issues, as well as newsstand versions and the newsstand versions are rarer today.
The comic was numbered "nn" as in no number because it was a one-time blend and not the first in a series. This comic is part of the book DC Comics Year by Year: A Visual Chronicle and was Frank Miller's return to Batman comics. It was also considered a companion piece to Miller's classic 1986 Batman: The Dark Knight Returns.
Some of the newsstand versions (and newsstand comics in general) were special because they were printed on different paper and could be returned to the manufacturer if not sold.
[phpbay keywords="spawn batman -wildcats -lot -set -99 -6 -8 -5 -7 -9 -2 -3 -4″ num="2″ siteid="1″ category="63″ customid="Feature-Spawn-Batman" sortorder="EndTimeSoonest" templatename="columns" columns="2″ paging="true"]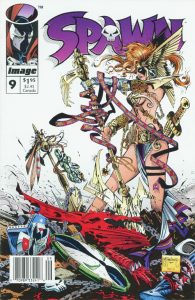 This is a popular Spawn edition in general because it's the comic's first appearance of Angela. However, the newsstand version is even rarer and more collectible than the direct edition.
As usual, the newsstand edition could be returned if unsold and featured a UPC code on the cover. For the most part, the artwork on the cover of #9 is the same between the two variations, but in addition to the UPC different, the direct edition has a month listed (March).
Additionally, the newsstand edition was missing the Angela poster, which was another common difference between the variations between newsstands and direct editions.
[phpbay keywords="spawn 9 newsstand -lot -complete -set- -6 -8 -5 -1 -2 -3 -4 -curse -malibu -rust -variant" num="4″ siteid="1″ category="63″ customid="Feature-Spawn-9″ sortorder="EndTimeSoonest" templatename="columns" columns="2″ paging="true"]
This is a special edition of the first ever Spawn comic. It's known as a retailer incentive comic because the retailer made something different about it in order to boost sales. They are advertised as being low print run or low copy editions, which automatically makes them collectible because there will be fewer of them than a usual comic book edition. In this example, retailers were told that if they purchased 50 copies of Spawn #65 for sale in their stores, they would receive a single copy of this Spawn #1 printed in black and white.
[phpbay keywords="Spawn Black White 1 -sketch -266 -curse -1st" num="2″ siteid="1″ category="63″ customid="Spawn-Feature-BW-Var" sortorder="EndTimeSoonest" templatename="columns" columns="2″ paging="true"]
The direct edition of Spawn #1 had more than a million copies in circulation, so it was far from rare. Fans of Spawn were eager to get their hands on a copy of their favorite superhero's first appearance in a comic of his own, so the black and white copy became popular among collectors. Comic book experts estimate that just over 3000 copies of the black and white edition #1 are in existence and fewer than 450 of them have been rated.
Additionally, comic book shops informed customers of the rarity of the black and white edition, which created some buzz around the comic. The excitement caused the price to increase and these days, this version goes for a few hundred dollars. The copy listed above is signed by Spawn artist Todd McFarlane.
An important consideration when it comes to comparing the value of comics is the fact that newsstand editions are printed on cheaper paper and, therefore, do not stand up as well over time. This means that a mint or very highly rated newsstand comic will often be worth more than the same direct edition comic in the same condition, due to the fact that it's more difficult to keep a newsstand copy in the best condition. Add in the fact that there are manufacturing differences that make the comic rarer, the newsstand edition is often the more valuable of the two editions.